Well, in order not to stay too far behind Tjalco, here is my story....
I am Maria Helena Johanna Van Houten, born on April 20, 1957and because life is hard enough as it is, just call me Marleen.
The first six years I lived in the same city I was born in, being The Hague, the third largest city in the Netherlands.
Then, the company where my father worked needed some expansion and built a new factory with offices in a small town in the eastern part of our country called Lochem, and my parents decided to move with it, so my little brother and myself being 4 and 6 years old at that time had no other option then to move with them.
Lucky us. The eastern part of the country is far more friendly and healthy for children to grow up in. Our house was in an area with a wood nearby to play in. Lochem was however just large enough to provide families with children with good schooling facilities and play grounds, enough shops, restaurants and even a cinema/theatre. After primary school and secondary school (HAVO for those who know anything of the Dutch schooling system) and an (only one year lasting) attempt to become a language teacher (English/French) I found myself a job as a receptionist. After that various other, mostly administrative and/or sales, jobs followed, until I met this smiling "Teddy Bear": Tjalco. After approx. 10 years of inofficially living together we officially got married on 5th of October 2000 and I now am partly his secretary, partly his nurse (him being a diabetic), partly a housewife, who likes to cook and who does so quite well if I may believe those who have tasted the meals I prepared, and why should I doubt them. I did however get some additional education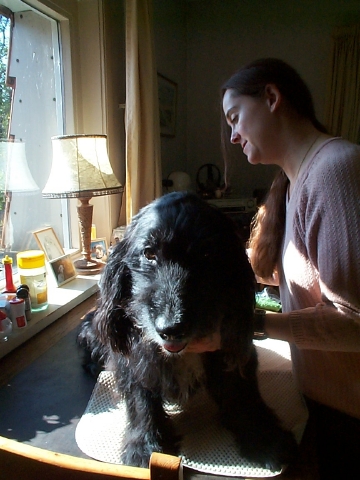 more as a hobby than actually wanting to work in that field. I got a diploma that would allow me to start a bar/café as well as a diploma that prooves me having enough knowledge of touristic matters to start working at a travel agency. In August 2000 however, and that is not to be seen as a hobby, as I am really very serious about it, I started a course to become an officially qualified para-veterinarian. The photo on the left shows me with our (second) dog - Jacky. Of the first one, called Dribbel, a picture left-below (during our last holiday together, he was already ill then) He died a few months later, on the 10th of July 2000, due to very severe kidney failure which left us no other option than to have him put to sleep. I still do miss him as he really was my little friend. During his illness I frequented the local vets and found out that my brain as well as my heart (and also my stomach !) could cope with looking at the socalled "bad and bloody sides of veterinary practice". Being (at that time) already 43 years of age and, until then, always considered to be an "alpha" person (so hardly any mathematics, chemistry or biology during secondary school) still becoming a "real" veterinarian was/is unfortunately absolutely out of the question. Loving all animals (more than all people...) this is therefore the best I can do... "My" veterinarians here in Borculo have been a great help for they said "yes" when I asked them for a position as a trainee (from 1st September 2001 until 1st March 2002). Thanks guys! In April 2002 I passed my exams and also was lucky enough to find a job on a "call off basis" with a veterinarian for small animals (dogs, cats, rabbits, guinea pigs etc.) in Hengelo (in the province of Overijssel), which is slightly more than a half hours drive from home. This is quite OK, because I do work now and again amongst the creatures I love best, and Tjalco and myself are still free to go to our house in France for longer periods. With our dogs, yes we've got two, because in july 2003, we took in a little "stepbrother" for our, now 11 year old, Jacky: little Benny, 13 years of age already but still going strong. Also a black dog and, like Dribbel and Jacky, from the nearest SPCA-kennel. A picture of him, with Tjalco on the balcony in France, hereunder↓.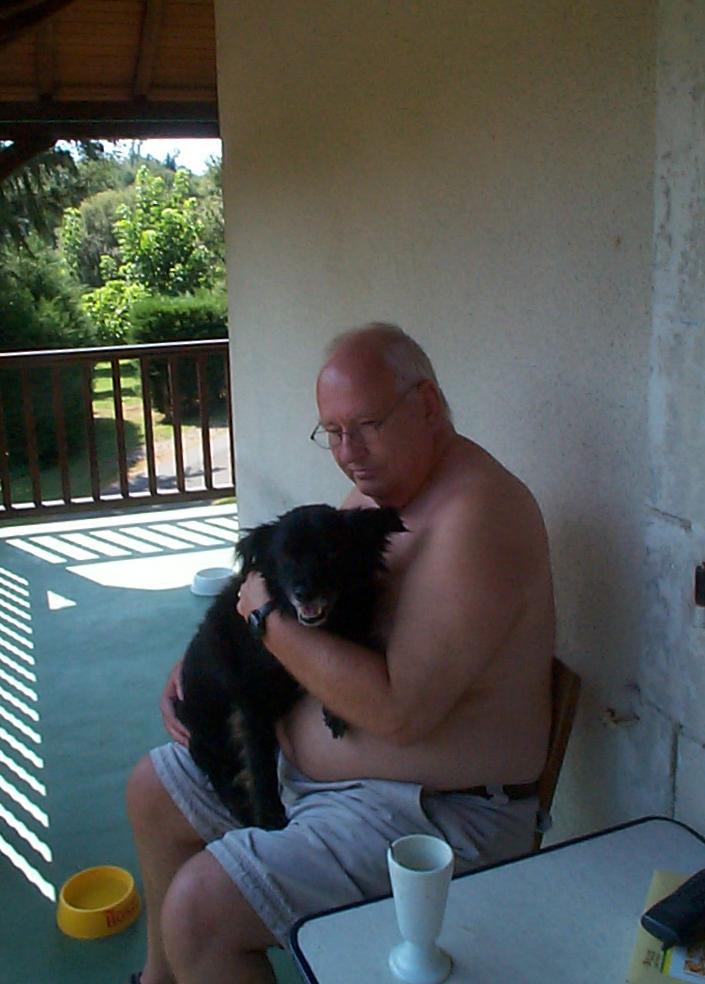 Dribbel ↓